Regular price
Sale price
$9.95
Unit price
per
Sale
Sold out
34 more prompt cards and 3 more wild cards! Along with the yellow, red, and blue cat prompts his expansion pack includes 5 blank prompt cards to best capture your own creative genius. 
Like you, Lark is just as at home at the brewery and in your living room as it is in the backcountry and on the rivers and roads in between. It's designed to be portable and low impact so you can bring it wherever you like to share moments of connection and mischief together.
And, rest assured, the expansion pack fits perfectly inside the box once you've opened it so you won't have to rubber band the deck together and hope you don't misplace it. You can if you want though. 
Order yours today and if you're not satisfied return it within 30 days for a full refund.
Lark Is Not Like Other Party Games

❌ Other party games draw their thrill from pitting players against each other and from snark, cynicism, and vulgarity.

✅ Lark connects us to the moment and to each other with a fundamental commitment to affirmation, abundance, and fun!

❌ Other party games have many complicated rules and a defined start and end which feel like a double commitment.

✅ Lark allows you to pick it up or walk away at any point & playing it is straightforward & easy!

❌ Other party games are competitive and force a particular playing style.

✅ Lark is versatile, collaborative, and affirming. It adapts to where and with whom you're playing allowing you to play how you want to play and leaves you feeling good.
Testimonials

"Simply beautiful, from the design to the wonderfully curated prompts, to how you feel after playing it with friends." - David

"This is such a great game for anyone looking to add some laughs or conversation to any social situation. It's perfect for adding some shenanigans to everyday life." - Sam

"Ridiculously creative, never the same twice." - Lloyd

"In two words; heartfelt, goofy" - Ella

"Truthfully, it's one of the most fascinating games I've ever played." - Bela

"There are a lot of mean-spirited party games out there; this is not one of them. Always good-natured, it elicits thoughtfulness, creativity, and hilarity in turn, depending on the card, the whims of the dodecahedron, and the mood of the crowd. Never the same, never boring. Beautiful design, beautiful content. Highly recommended." - Dan
Features

- Two prompts per card to make the game more portable and less wasteful

- Three different types of prompts are color coded so you can add depth and variability based on your get-together. 

- Yellow: silly & action- oriented

- Red: sincere & exploratory

- Blue: ambiguous, requires the card holder to add their own spin to the prompt

- __(parenthetical prompts)__ give you the opportunity to depart from the given prompts and lean into your own creative genius and the moment at hand. They also create long-lasting variability so the game is never the same. 

- Wild Cards add an element of chaos and distribute power to players who do not have the die.

- Two 12-sided die in case you lose or make a gift of one.
Game Contents

002 Expansion Contents

- 34 prompt cards with 2 prompts per card (more portable, less wasteful!). Includes 5 blank prompt cards to capture your own creative genius.

- 3 Wild Cards that change play in wonderful, chaotic ways.
Our Gurantee

Thrills, laughter, antics, and real talk guaranteed!

We think you'll be 100% satisfied with Lark and we want you to buy with confidence. If you don't find laughter, real talk, thrill, and antics within 60 days of purchase we'll refund your purchase no questions asked.

We'll get you a refund and arrange a return or ask you to pass Lark along to someone who you think might like it. Thanks!
Shipping

Orders over $20 ship free in the U.S.  Otherwise select your preferred service in the cart panel for an immediate estimate. 
Sharing Our Success

We're grateful for the opportunity to be doing this work with you. We recognize that everything is connected and that our success comes at a cost. We do everything we can to use fewer resources, sustainably sourced materials that are recyclable, and we give back to offset our use. We're currently committed to sharing our success and giving back through 1% For the Planet and through our own initiative, 1% For the People. 1% For the People aspires to share our success by supporting social and humane endeavors that celebrate people and justice. 
Share
View full details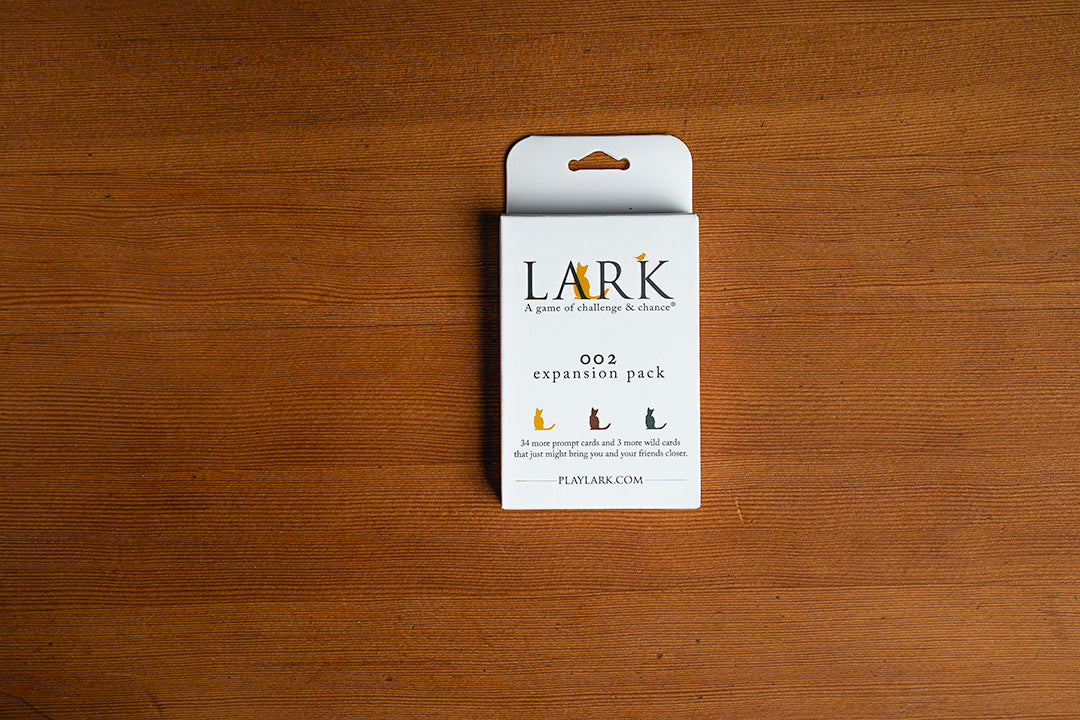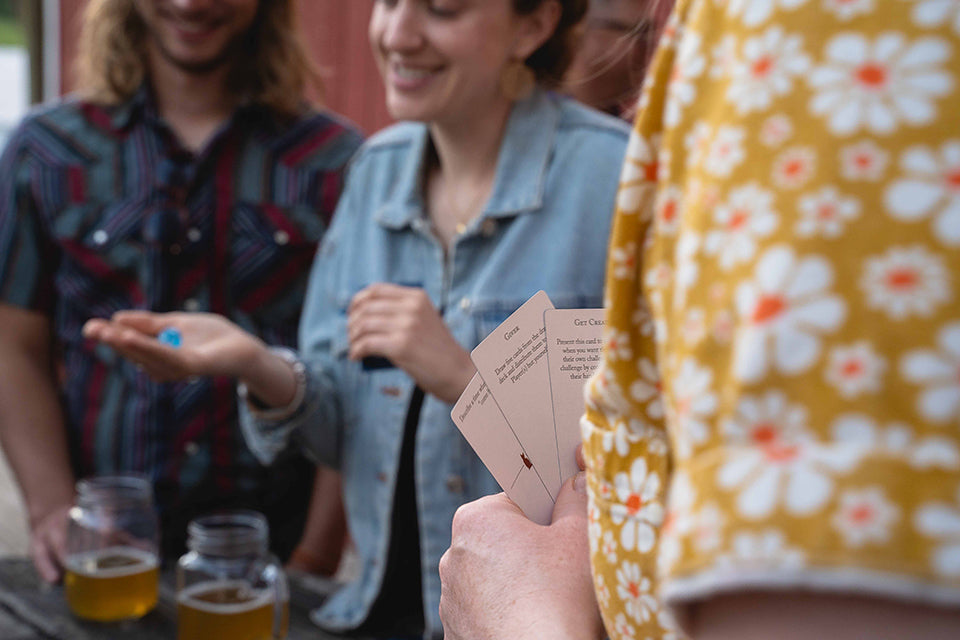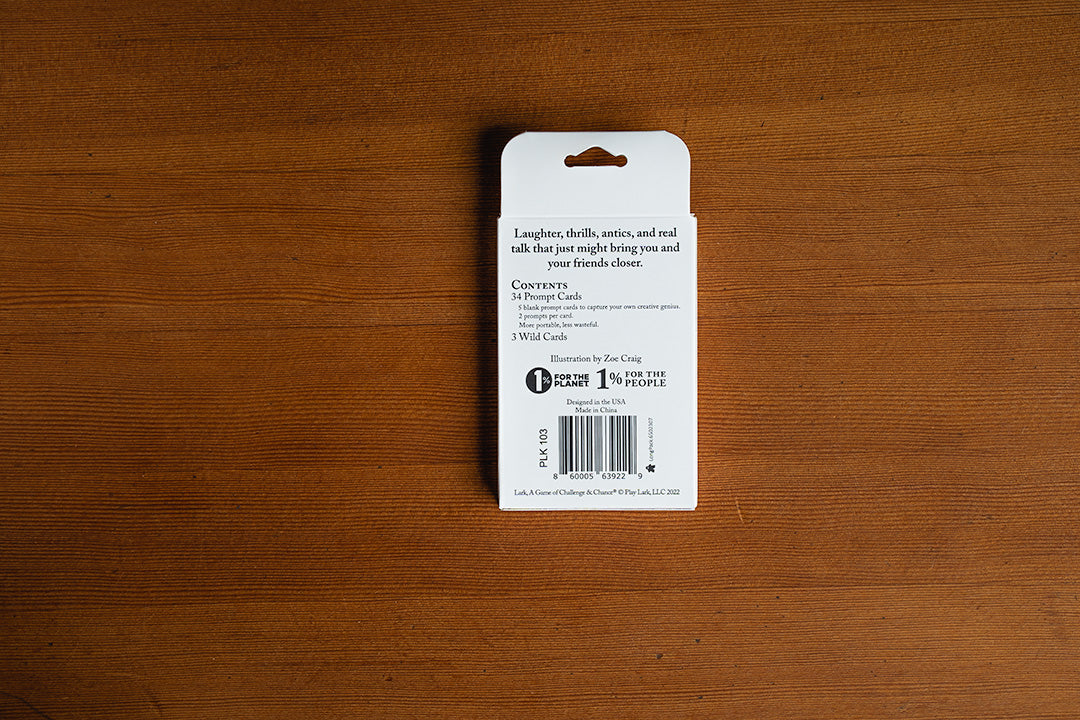 How to Play
Challenge your friends to get out of their comfort zones in fun and affirming ways using the card prompts and a 12-sided die.
Example Gameplay
The Dealer (the person holding the die) says, "James if I roll a 6 or 8 and Tater if I roll a 7 or 10 you have to do your best impression of me."  Dealer gets consent from James and Tater so she rolls the die. It lands on a 7 so Tater performs his best impression of her. She can now discard and draw a new card and Tater becomes the Dealer. And so on.