Regular price
Sale price
$29.95
Unit price
per
Sale
Sold out
"For real, don't get this game if laughing to the brink of death is not your thing. I love that this game can be anything & is amazingly different every time! I feel more connected to people when I play it & I feel GOOD." - Amoryn 
Sometimes a night with friends just hits differently and sticks with you. Imagine shared moments full of thrills, laughter, antics, and real talk that will make you and your friends feel closer and richer (in memories and delight). Lark plays on your strengths and creativity to bring your get togethers to life.
Lark is a party game for venturesome people that will make you and your friends laugh until you cry, dare greatly, connect deeply, and even create a bit of mischief.
Bring Lark to your next get together and you'll...
🙅‍♀️ Avoid small talk with interesting and exploratory questions about the parts of yourself you rarely get to share;
🙌 Connect with your friends in meaningful ways with Lark's ambiguous prompts that help you tap into the "anything-is-possible" feeling of shared moments;
💃 Prompt your friends to feats of great daring and mischief (and some inanity);
😂 Laugh until you cry as you revel in your friend's stories, creativity, and antics!
The time you spend with each other is too valuable to waste on small talk, monotony, and crass humor. Lark is the play gateway to making more fun, laughter, and mischief with your friends.
Take turns posing prompts (from the cards in your hand or those you make up) and then use the die to assign a) either the odds of it happening or b) which player(s) will be chosen to perform the prompt.
Like you, Lark is just as at home at the brewery and in your living room as it is in the backcountry and on the rivers and roads in between. It's designed to be portable and low impact so you and your light conscience can bring it wherever you like.
Order yours today with free shipping and if you're not satisfied return it within 60 days for a full refund.
Players: 2+  |  Ages: 17+  |  Time: 10 minutes+  |  Time to Learn: 5-10 minutes
Lark Is Not Like Other Party Games

❌ Other party games draw their thrill from pitting players against each other and from snark, cynicism, and vulgarity.

✅ Lark connects us to the moment and to each other with a fundamental commitment to affirmation, abundance, and fun!

❌ Other party games have many complicated rules and a defined start and end which feel like a double commitment.

✅ Lark allows you to pick it up or walk away at any point & playing it is straightforward & easy!

❌ Other party games are competitive and force a particular playing style.

✅ Lark is versatile, collaborative, and affirming. It adapts to where and with whom you're playing allowing you to play how you want to play and leaves you feeling good.
Testimonials

"Simply beautiful, from the design to the wonderfully curated prompts, to how you feel after playing it with friends." - David

"Wanna actually finally have one of those fun, meaningful, memory-making, peak nights with your friends that you assumed would be easier to come by? Play Lark." - Mason

"This is such a great game for anyone looking to add some laughs or conversation to any social situation. It's perfect for adding some shenanigans to everyday life." - Sam

"Ridiculously creative, never the same twice." - Lloyd

"In two words; heartfelt, goofy" - Ella

"Truthfully, it's one of the most fascinating games I've ever played." - Bela

"There are a lot of mean-spirited party games out there; this is not one of them. Always good-natured, it elicits thoughtfulness, creativity, and hilarity in turn, depending on the card, the whims of the dodecahedron, and the mood of the crowd. Never the same, never boring. Beautiful design, beautiful content. Highly recommended." - Dan
Features & Benefits

- Two prompts per card to make the game more portable and less wasteful

- Three different types of prompts are color coded so you can add depth and variability based on your get-together. 

- Yellow: silly & action- oriented

- Red: sincere & exploratory

- Blue: ambiguous, requires the card holder to add their own spin to the prompt

- __(parenthetical prompts)__ give you the opportunity to depart from the given prompts and lean into your own creative genius and the moment at hand. They also create long-lasting variability so the game is never the same. 

- Wild Cards add an element of chaos and distribute power to players who do not have the die.

- Two 12-sided die in case you lose or make a gift of one.
Game Contents

Lark Game Contents

- 75 prompt cards with 2 prompts per card (more portable, less wasteful!).

- 9 Tenet Cards to help set the tone and edify you as a creative, generous, genius!

- 15 Wild Cards that change play in wonderful, chaotic ways.

- 2, 12-sided die (in case you lose or make a gift of one).

- 1 Guidebook full of all the wisdom you'll need out there.
Money-Back Gurantee

Thrills, laughter, antics, and real talk guaranteed!

We think you'll be 100% satisfied with Lark and we want you to buy with confidence. If you don't find laughter, real talk, thrill, and antics within 60 days of purchase we'll refund your purchase no questions asked.

We'll get you a refund and arrange a return or ask you to pass Lark along to someone who you think might like it. Thanks!
Shipping

Orders over $20 ship free in the U.S.  Otherwise select your preferred service in the cart panel for an immediate estimate. 
Sharing Our Success

We're grateful for the opportunity to be doing this work with you. We recognize that everything is connected and that our success comes at a cost. We do everything we can to use fewer resources, sustainably sourced materials that are recyclable, and we give back to offset our use. We're currently committed to sharing our success and giving back through 1% For the Planet and through our own initiative, 1% For the People. 1% For the People aspires to share our success by supporting social and humane endeavors that celebrate people and justice. 
Share
View full details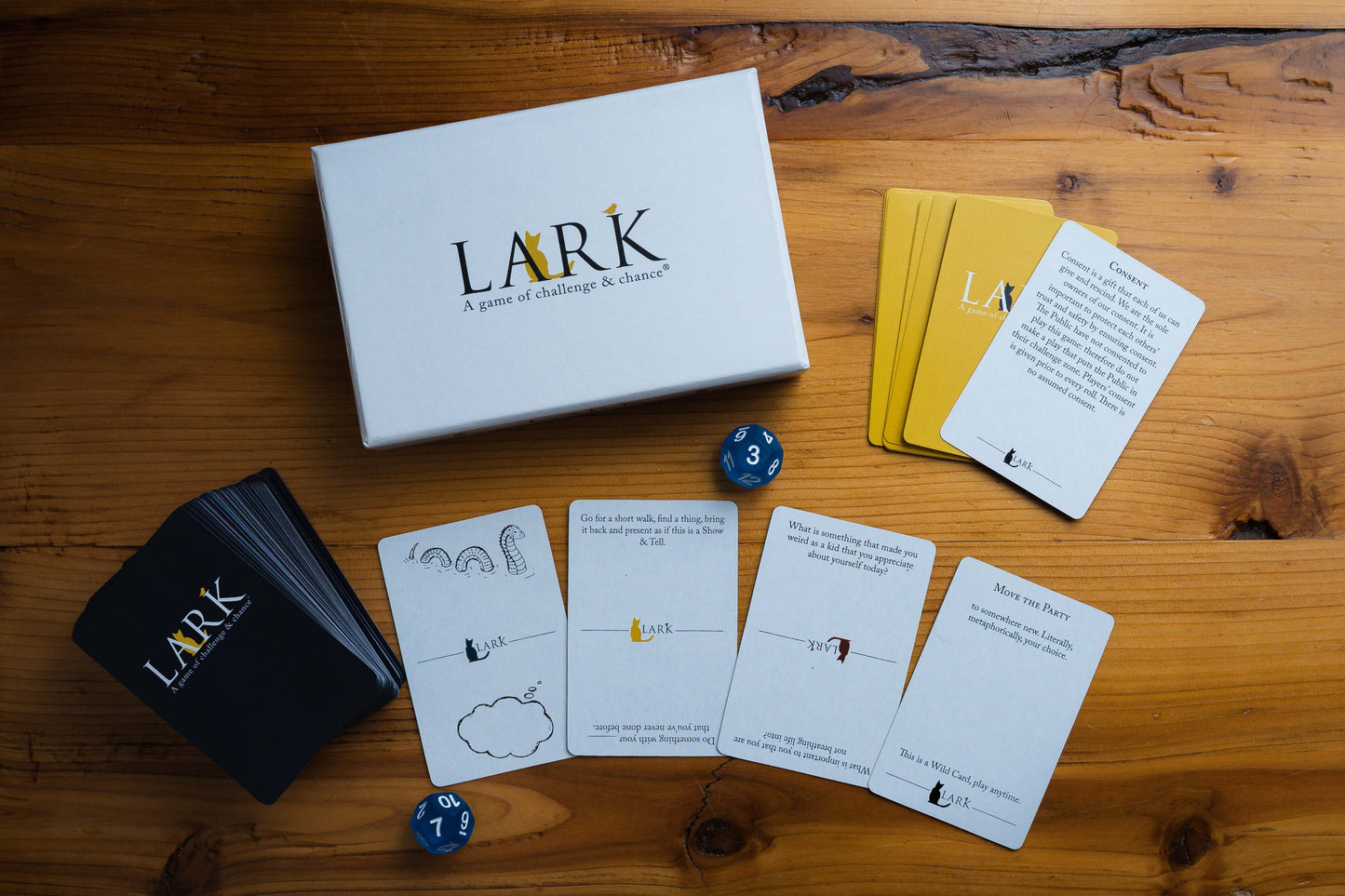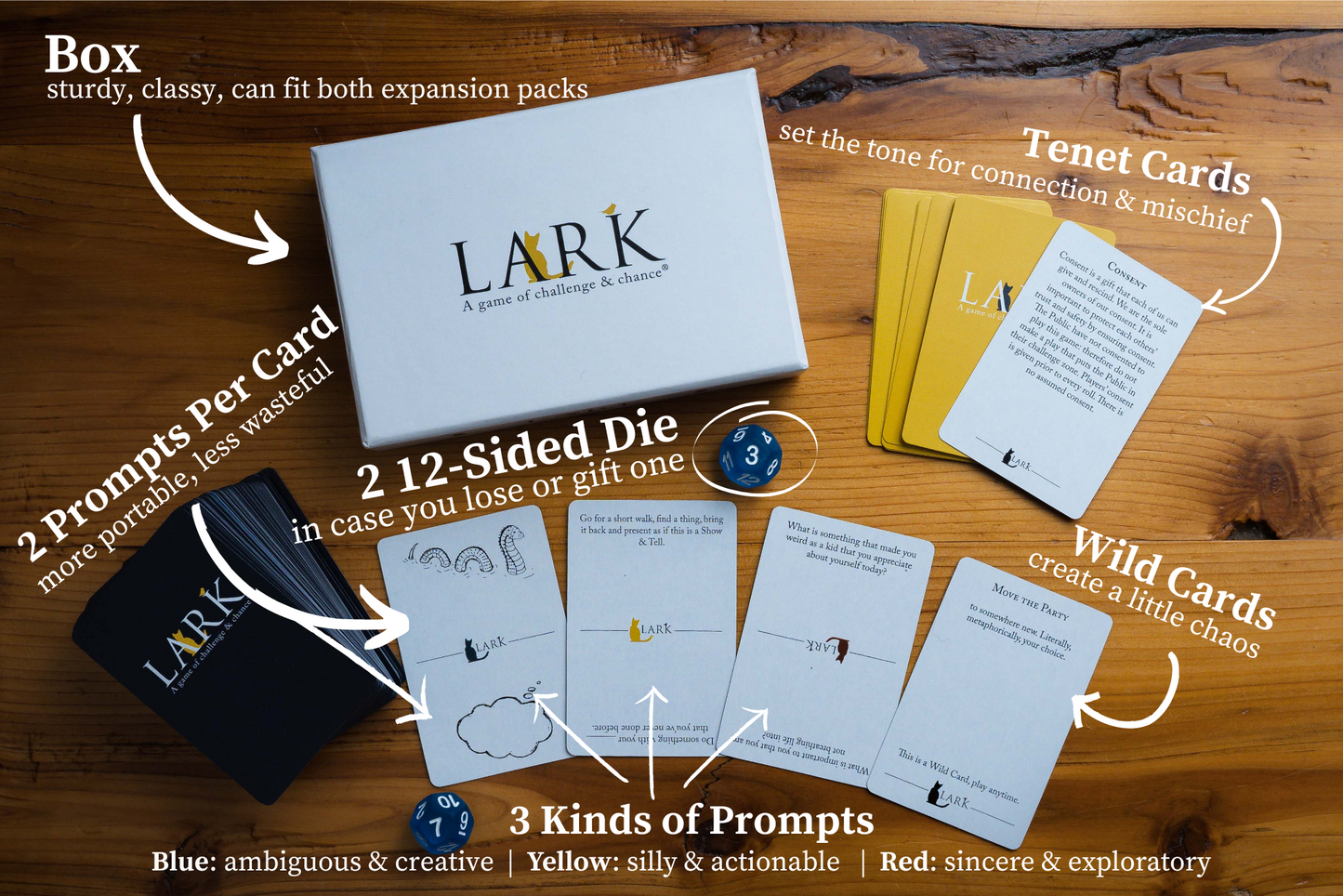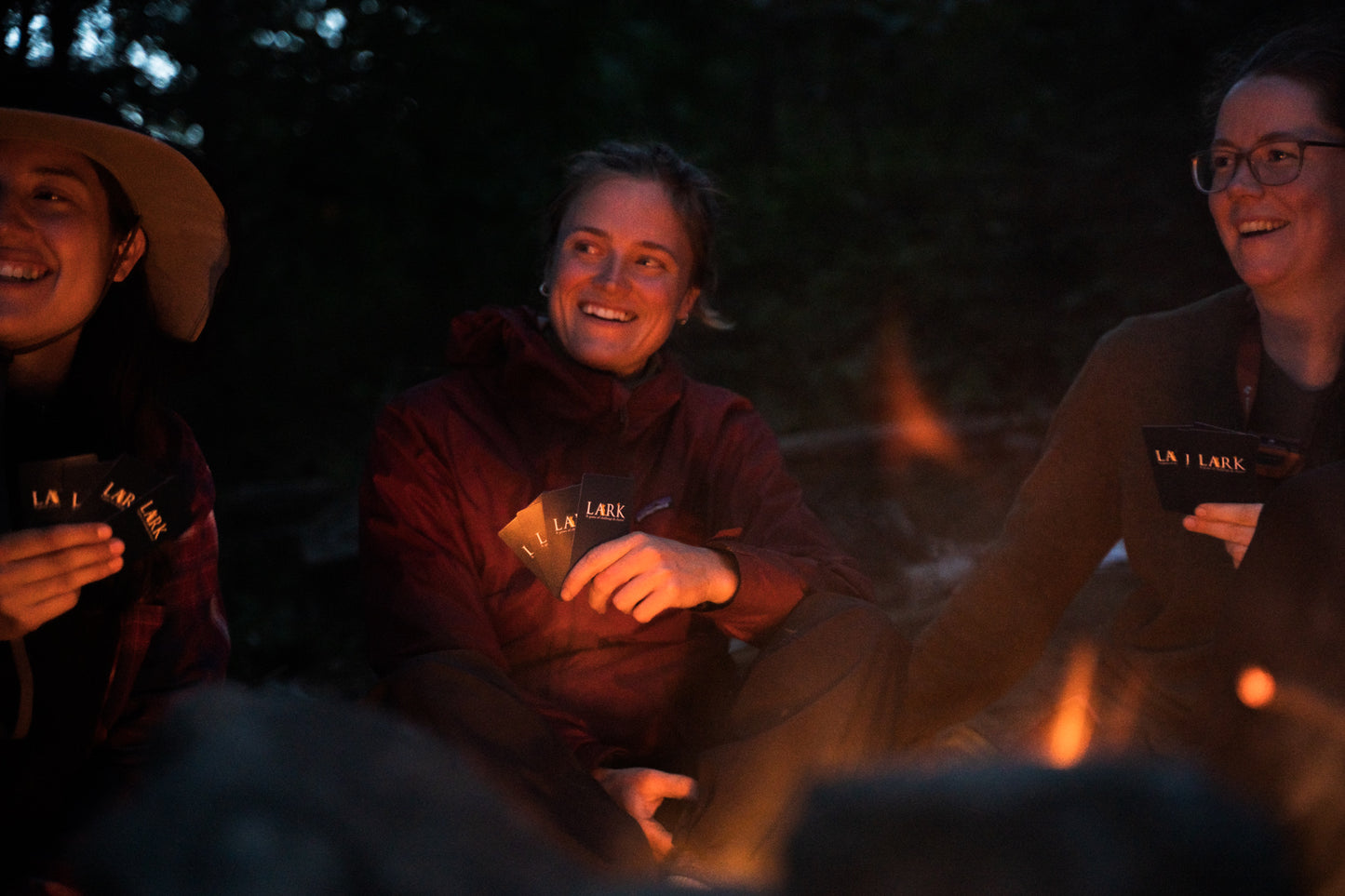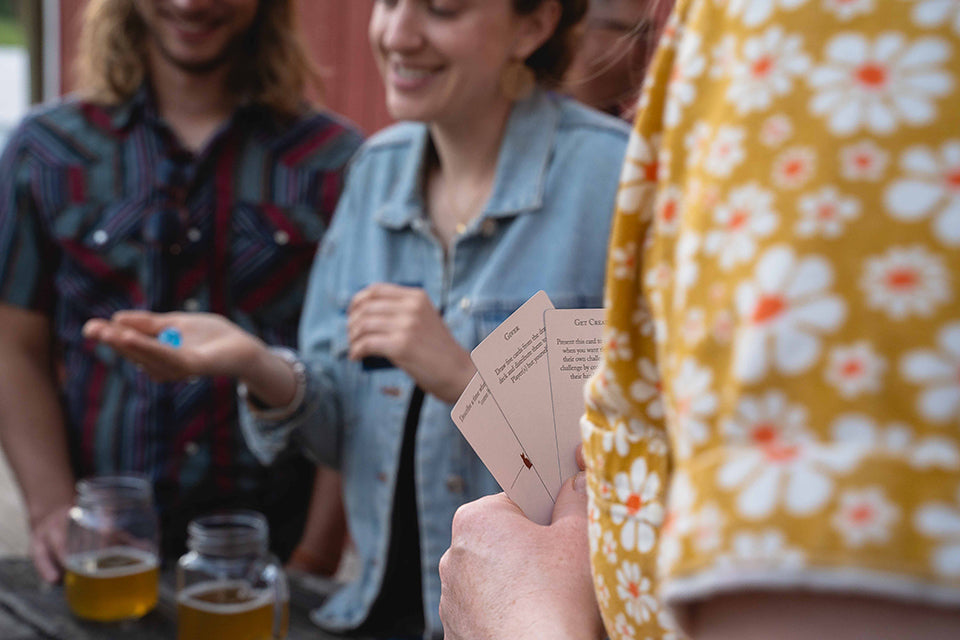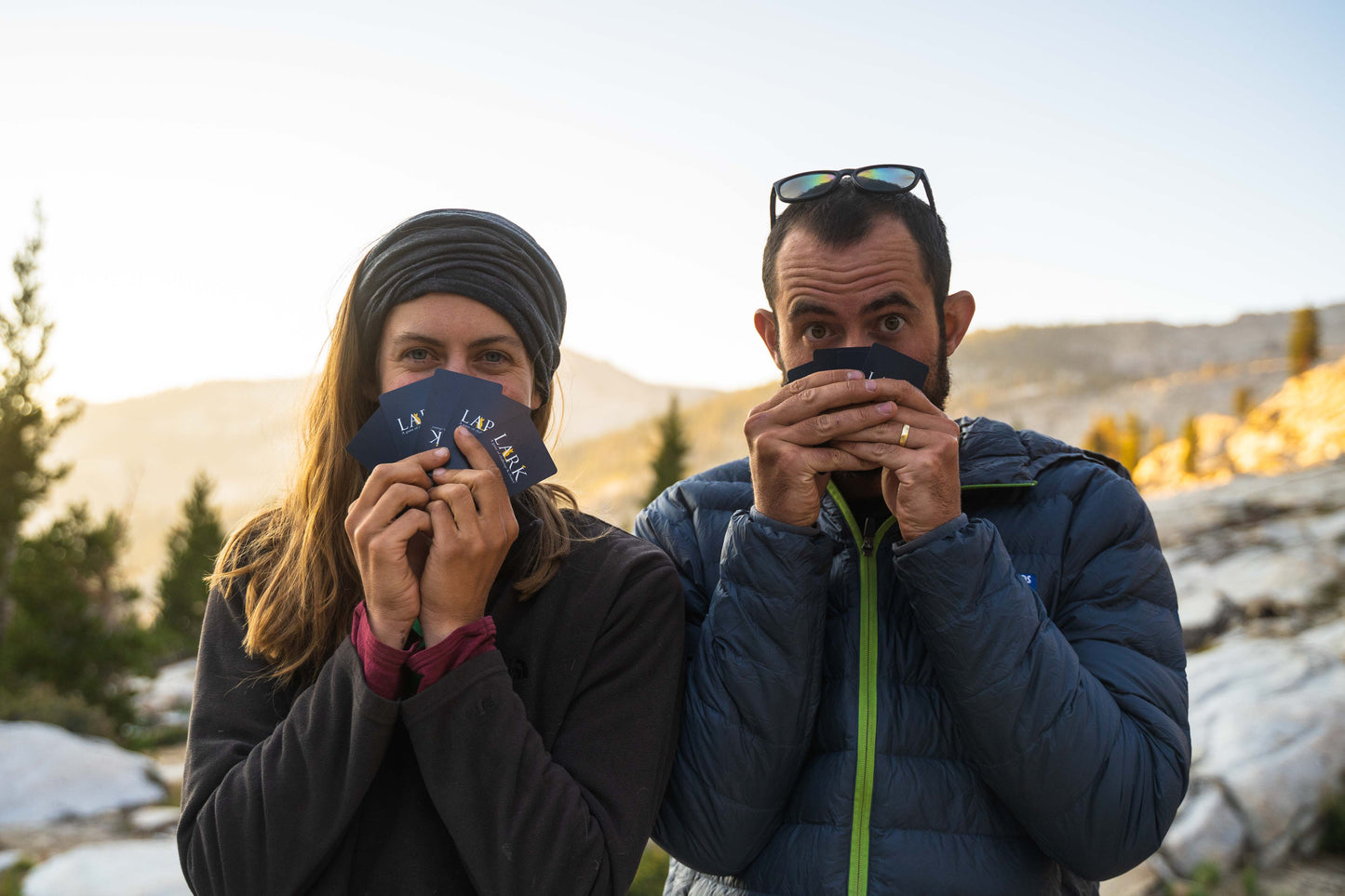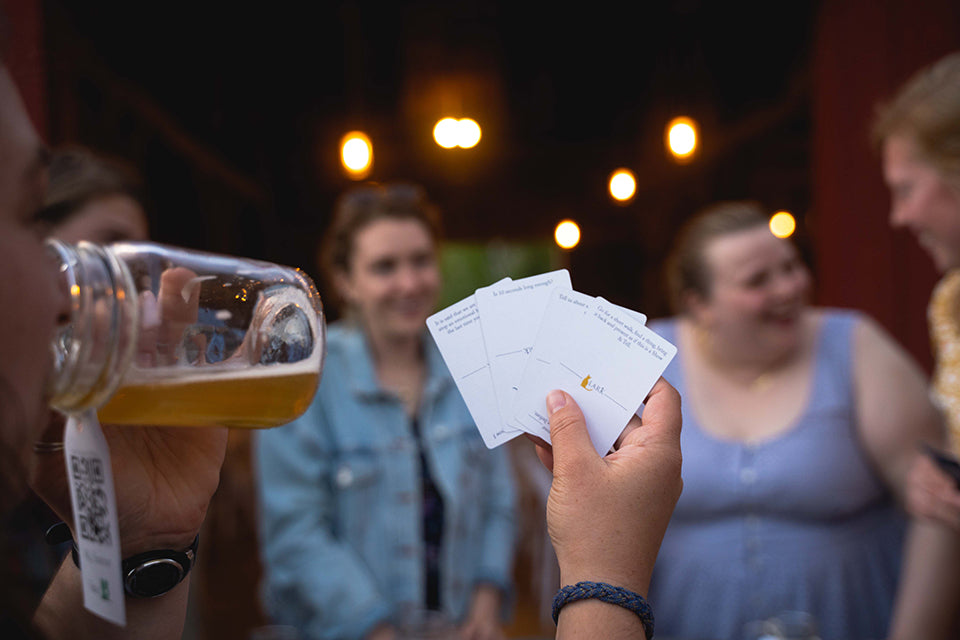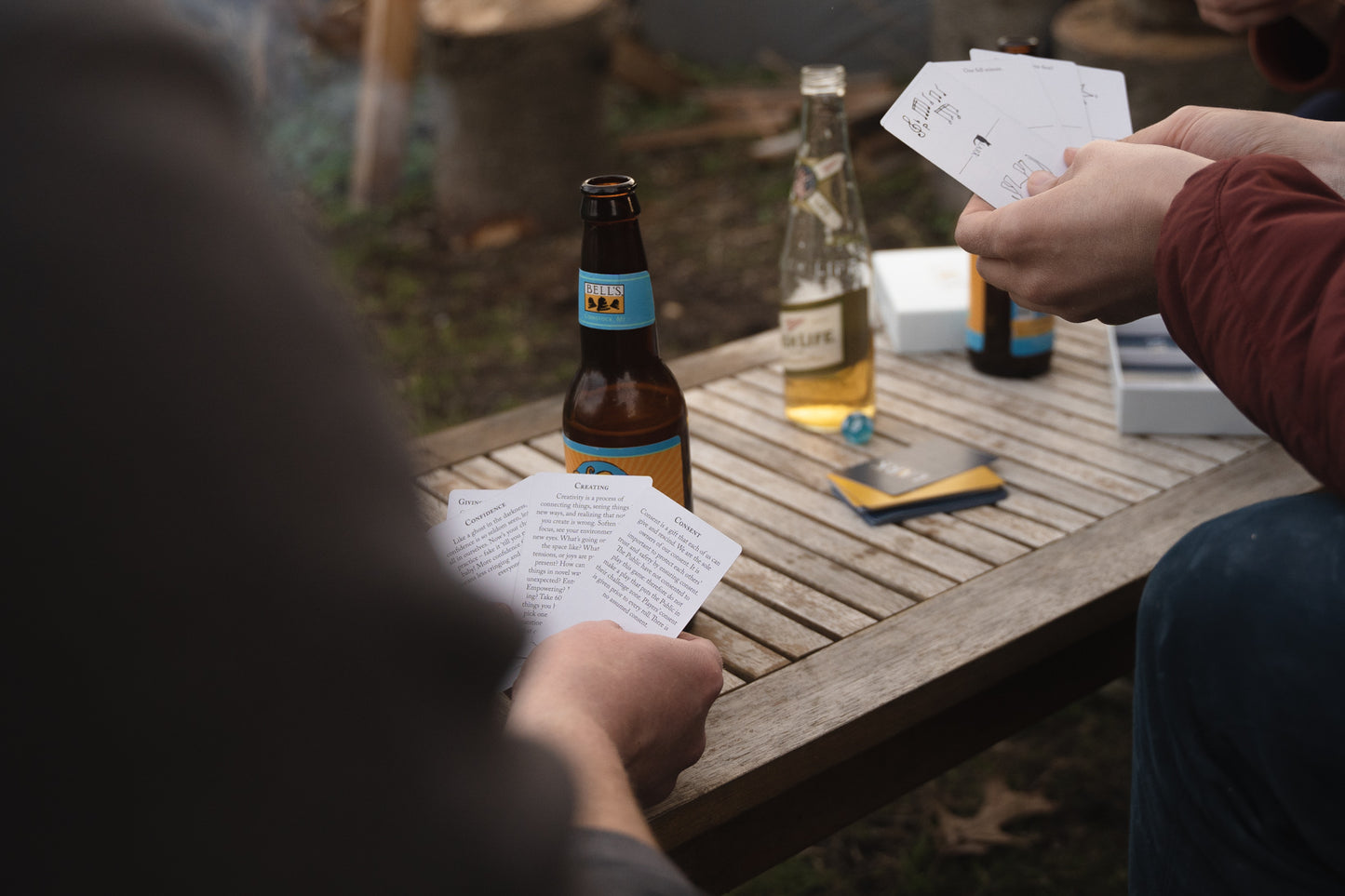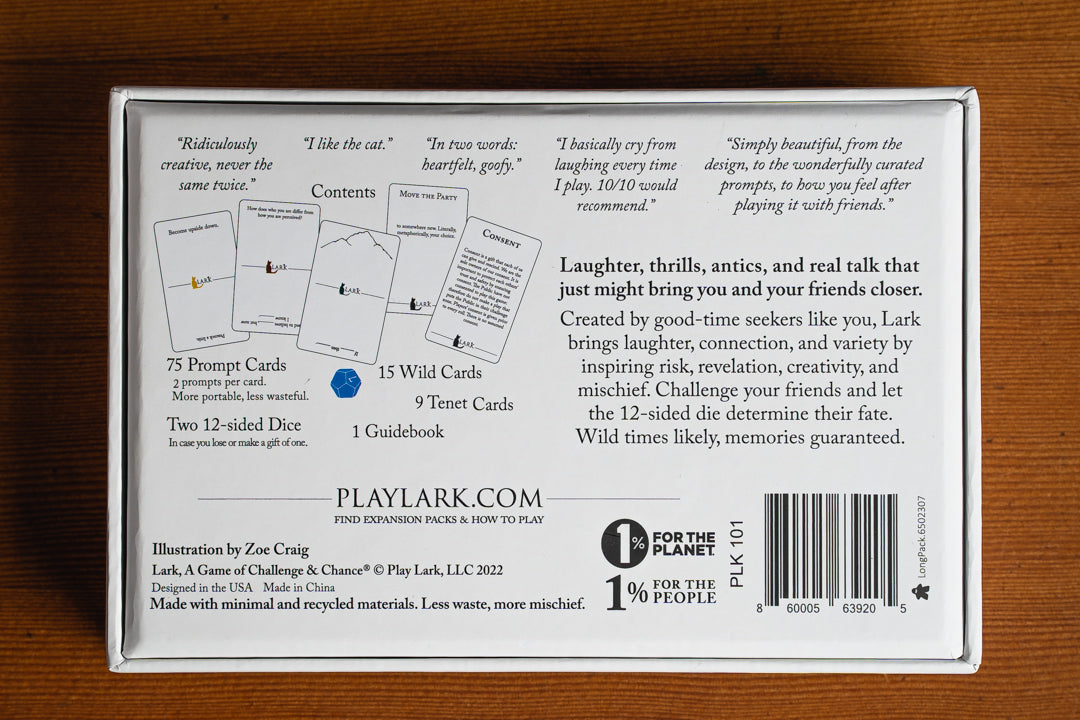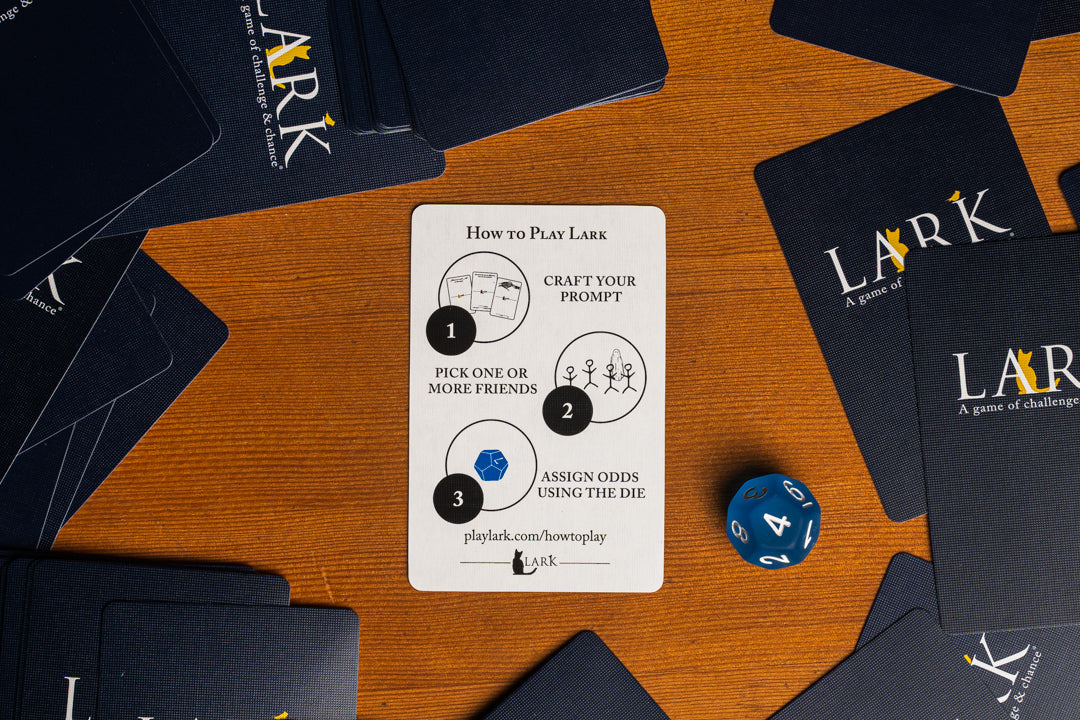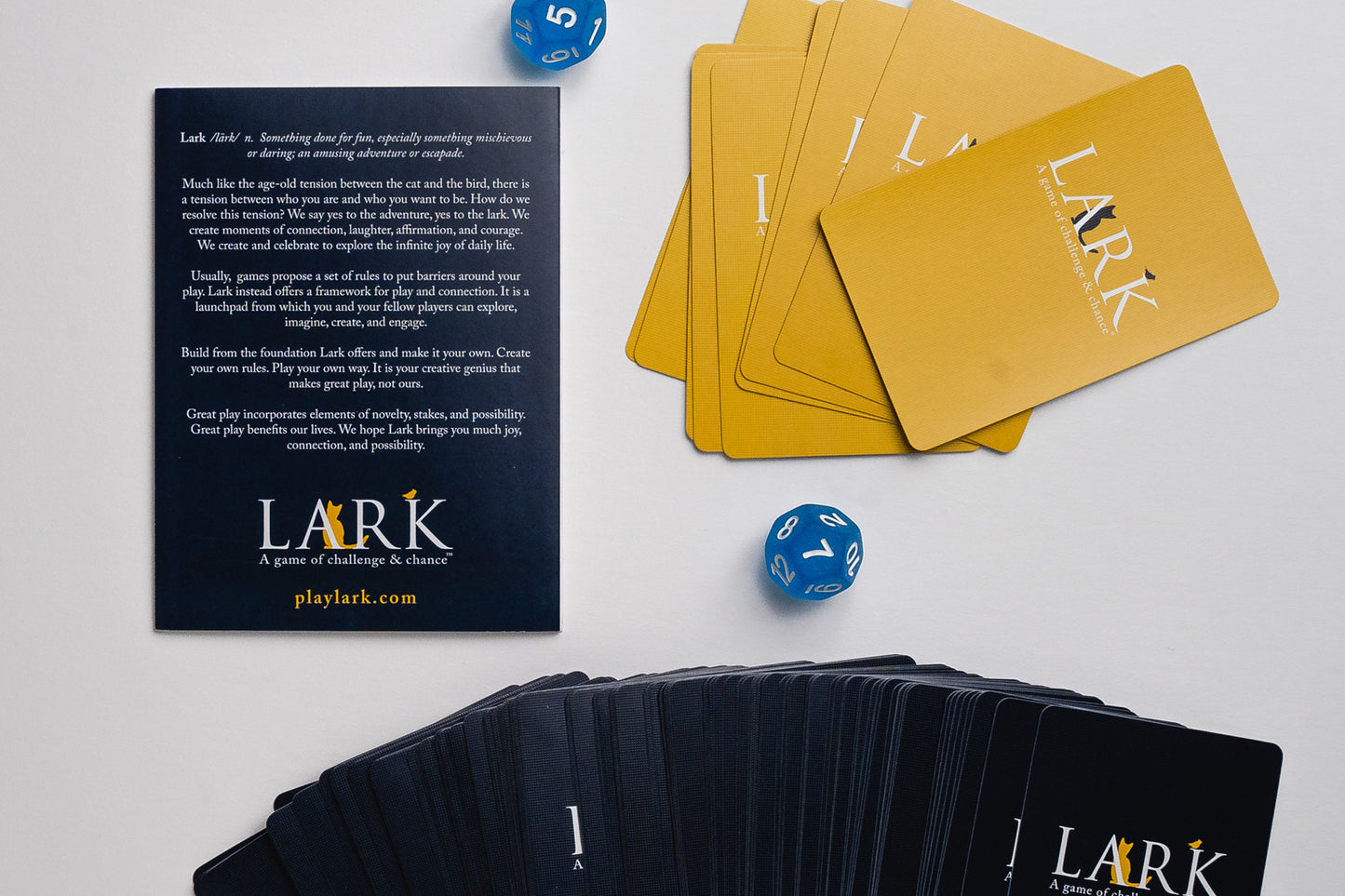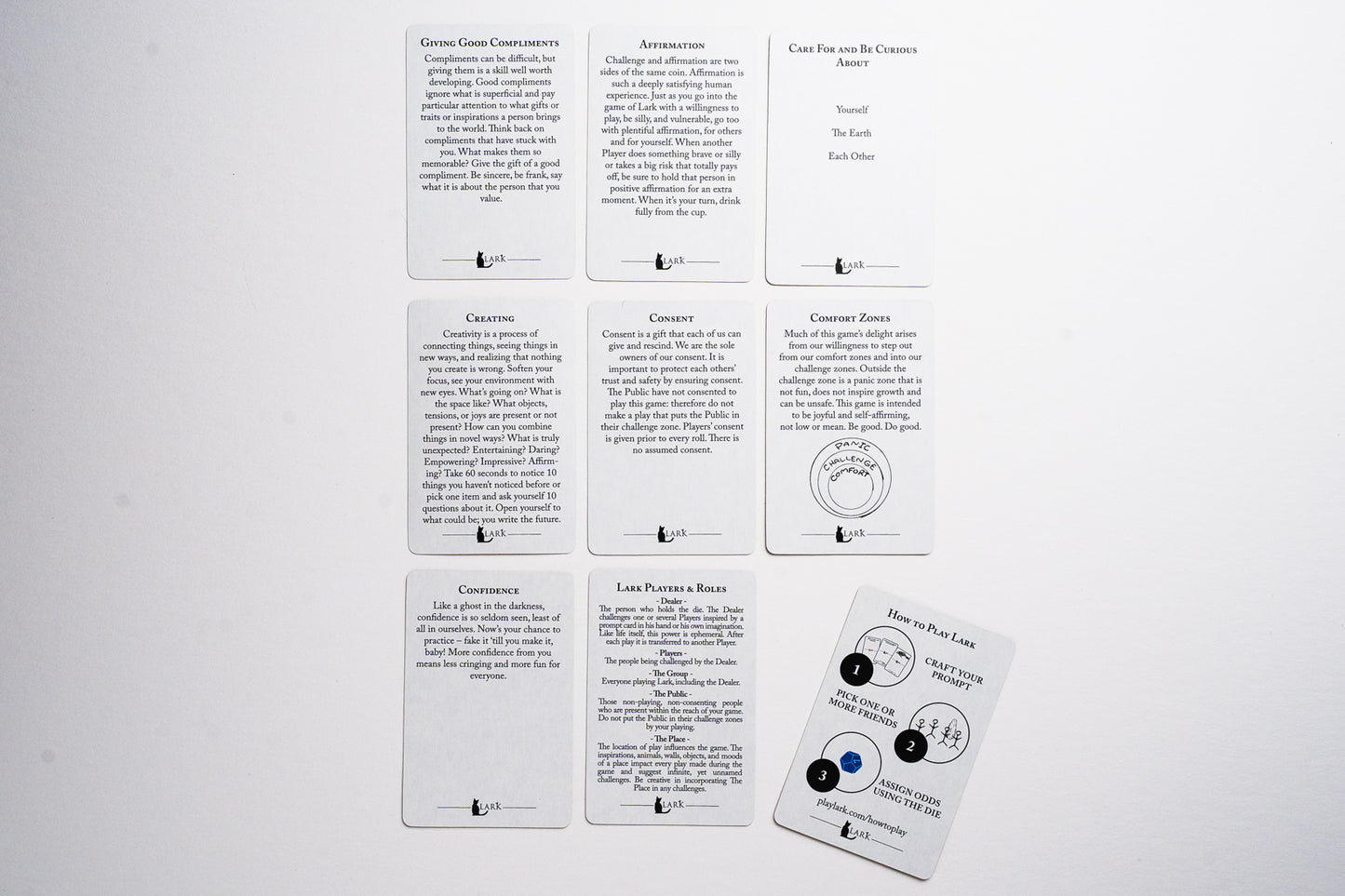 How To Play
Challenge your friends to get out of their comfort zones in fun and affirming ways using the card prompts and a 12-sided die.
Example Gameplay
The Dealer (the person holding the die) says, "James if I roll a 6 or 8 and Tater if I roll a 7 or 10 you have to do your best impression of me."  Dealer gets consent from James and Tater so she rolls the die. It lands on a 7 so Tater performs his best impression of her. She can now discard and draw a new card and Tater becomes the Dealer. And so on.
Some card examples for your consideration
Yellow Cat Prompt Card

Red Cat Prompt Card

Blue Cat Prompt Card

Wild Card

Consent Tenet Card
Great even for non-game enthusiasts
I've played with a mix of friends - some of us are avid gamers and some of us abhor them, but everyone enjoys Lark.
Creates Unique and Special Moments
This game is very special in how it always yields experiences you never would have had without the game and without the specific group of people.
Everyone has a unique lens and since the players effectively make the game themselves based on their interpretations of the prompts, it's always a different experience with each group.
It is not a game that can be played all the time, everywhere. It needs a group of people who are excited to be creative and to experience things. It's not great when people just want to relax or are not interested in thinking about themselves or others. But when you can get a group of people willing to do some weird and spontaneous yet good natured stuff it is a special experience.
Also I recommend using the die less to make odds and more just to choose who does each task. People don't generally like to put creative effort into an idea just for it to not happen. But I can see the odds system being helpful in certain groups who are less open, just not in any I played with.
Laughter and Fun great small party game
This game is more of a way to experience your friends than a competition. The goal is to open up and create deeper connections with laughter along the way
Tickled with the game
We played this with our best friends, and I have to say, it just might be one of the best weekends, ever.
I'm so happy I ordered Lark, and I just know it'll be a regular choice from our game chest. Thank you for putting so much thought into Lark.
Haven't played yet
Looks really fun and flexible — a combination of conversational games and improv. I haven't had an opportunity to play it yet, though.
Great connecting game
Played this with a new friend. We so enjoyed getting to know one another better with this well designed game.
Such a great balance between light & fun and deep & philosophical.
Looking forward to sharing with more friends and playing with a larger group of folks!
Whole hearted and playful
Lark has proven to be a favorite in a short amount of time. The thoughtfulness that has gone into the questions and the play shines through. We have been singing Larks praises to our friends! Thank you for creating such a connecting, playful, whole hearted game!
Lark is a game I love breaking out and playing with people that I want to get to know better and in intimate spaces, at parties where some folks know some other folks, but not everyone knows everyone else, or even just pulling out prompts with a partner one on one for a date night. The game is fun and endearing, and does a great job of opening up to those with whom they are playing. It can be raucous or cozy, playable with either a cup of tea or a shot of whiskey in your hands.
Personally, my favorite prompt is the "Giving Good Compliments" one. Watching folks reflect on compliments that have impacted them, sharing them, and then giving one is so sincere and heart warming that it will brighten your whole day
Maximum Enthusiasm
I'm not much of a game person but I LOVE Lark. It's the best game ever!! Some of my favorite moments so far are my monologue as a balloon caught in the wind, my sister's blinded race across her house to touch her cat, and my husband's anti-pasta murder mystery podcast. For real, don't get this game if laughing to the brink of death is not your thing. I love that this game can be anything & is amazingly different every time! We're thinking of bringing some cards on a backpacking trip in the spring & can't wait to share the silliness with more friends!
Fun, engaging, and very versatile!
Lark is fun, engaging, and very adaptable! I love how versatile the game is to the environment in which you want to play. You can play with a partner/good friend and use the cards to deepen your connection with one another, or play in a group to help people get to know each other. It's the perfect blend of silly and serious, so a great game to keep around.